Bernd Fislage
CEO
CAREER
2017: Kommunalkredit Austria AG

2018 Chief Executive Officer

2017 Member of Executive Board

1998-2015: Deutsche Bank AG

Global Head of Asset Finance & Leasing
Head of Structured Finance Germany
Member of Global SF Executive Committee
Member of CB & S Executive Committee Germany

1996-1998: NatWest Markets Plc.
1993-1996: BHF-Bank AG
1992: Dresdner Bank AG
Graduate of TU Darmstadt
RESPONSIBLE FOR
Banking, Markets, Corporate Services (HR | Legal | Communication), Internal Audit
Sebastian Firlinger
CFO/CRO
CAREER
2021: Kommunalkredit Austria AG

Member of Executive Board

2018-2020: Südwestbank AG: Member of Executive Board
2015-2018: BAWAG P.S.K.
2014-2015: Bain & Company Germany Inc.
2009-2014: Hypo Alpe-Adria Bank International AG
2007-2009: Accenture GmbH
2004-2007: Deloitte Audit Wirtschaftsprüfungs GmbH
Graduate of WU Vienna and TU Vienna
RESPONSIBLE FOR
Finance, IT & Transformation, Risk Controlling, Credit Risk, Banking Operations, Compliance & Non-Financial Risk Management
Executive Committee.
The Executive Committee comprises
the Executive Board and Senior Management.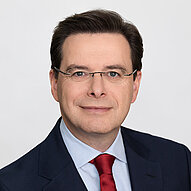 Michael Santer
Head of Markets
Mariella Huber
Head of Corporate Services
Andreas Schortje
Head of Risk Controlling
John Weiland
Head of Banking
Patrick Bettscheider, Chairman
Appointed by Satere Beteiligungsverwaltung GmbH; Managing Director Satere Beteiligungsverwaltungs GmbH

Friedrich Andreae, Deputy Chairman
Managing Director Satere Beteiligungsverwaltungs GmbH

Tina Kleingarn
Partner Westend Corporate Finance

Jürgen Meisch
Managing Director Achalm Capital GmbH

Martin Rey
Managing Director Maroban GmbH

Alois Steinbichler
Managing Director AST Beratungs- und Beteiligung GmbH

DELEGATED BY THE EMPLOYEES' COUNCIL
Oliver Fincke
Peter Krammer
Gerald Unterrainer
Kommunalkredit Austria AG is 99.80% owned by Satere Beteiligungsverwaltungs GmbH ("Satere"), and 0.20% by the Austrian Association of Municipalities.
The Austrian Association of Municipalities is the umbrella organization representing the interests of Austrian municipalities at the federal level. It represents 2,084 of the currently 2,095 Austrian municipalities.
Satere Beteiligungsverwaltungs GmbH is 55% and 45% owned by Interritus Limited ("Interritus") and Trinity Investments Designated Activity Company ("Trinity"), respectively.
Interritus was founded in 2014 as an investment company by Patrick Bettscheider to invest his own investment assets as well as those of family offices, foundations and large U.S. foundations focused on long-term investments and active in the European financial services industry. Patrick Bettscheider is Chairman of the Supervisory Board of Kommunalkredit Austria AG, former founder and majority owner of MainFirst Bank AG, previously Head European Equities of Deutsche Bank AG and former member of the Executive Board of Julius Bär & Co. AG. Patrick Bettscheider is the Ultimate Beneficial Owner (UBO) of Kommunalkredit Austria AG as defined by the Austrian Economic Owners Register Act (WiEReG).
Trinity is an Irish domiciled investment vehicle managed by Attestor Limited. Attestor is a London-based investment manager pursuing a fundamental value investment strategy with a particular focus on Europe. Attestor's investment philosophy focuses on long-term capital appreciation and manages assets primarily for foundations and family offices. Friedrich Andreae is Attestor's representative on the Supervisory Board of Kommunalkredit Austria AG.
The strategy of Kommunalkredit Austria AG's owners is long-term oriented in order to create sustainable added value for all stakeholders.
*On 07/02/2023, Kommunalkredit announced that Scandinavian investor Altor will acquire an 80% majority stake in Kommunalkredit.